Technical rear line trim with tricky little features.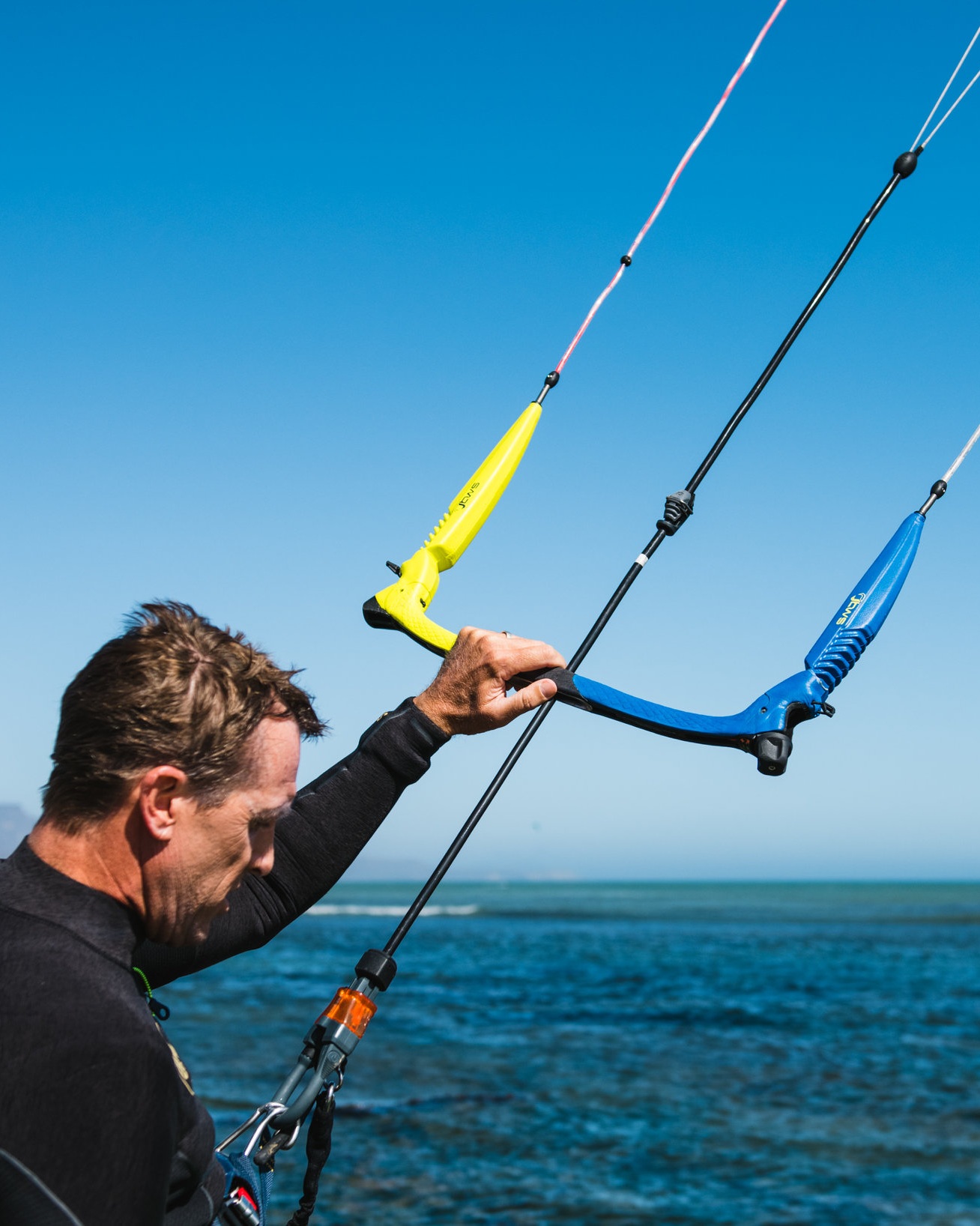 The next generation: the V2 Blue Chip Bar
Ultra lightweight, ergonomic composite kiteboarding control bar. 1.1kg including ultra-strong and non-stretch lines.
The Blue Chip Bar's lightweight carbon composite build delivers unparalleled strength while setting the new standard of performance and function in modern control bars. Ideal for wave riding with its power and depower right at your fingertips you don't need to take your eyes off the ocean to adjust, just twist for more and bump for less. The Blue Chip is ergonomically shaped for comfort with plush moulded EVA grip for superior grip. Keep it neat and tidy with retracting bar-end bungees to secure lines and a quick rinse will remove any sand from the open channel design. Simple yet refined for performance and practicality.
52cm carbon composite kite control bar
Our new bar is a completely refreshed approach to the kite control system. The Blue Chip bar offers a whole new dimension of comfort and control, featuring a back line kite trimming system as opposed to standard front line trimming system. Its single body injection-moulded structure offers enhanced safety, improved ergonomics and greater accuracy for trimming the kite.
Sidewinder: one knob, total trip control
Twist the Sidewinder to add power, give it a nudge to depower – it's that quick and simple. A quarter turn delivers 1cm of trim and just five complete rotations sheets in by 21cm! Instantly depower your kite by pushing the sidewinder out or just bump for incremental depower.
With only one moving part, this simple open design allows thorough and rapid flushing, easy inspection and simple maintenance if required.
Note: Sidewinder delivers 1:1 total trim adjustment of 21cm, which is equivalent to 42cm of traditional 2:1 cleated pulley line depower.
FEATURING
ADJUSTABLE BAR STOPPER
Designed to allow easy, on-the-fly adjustment of a kiteboarding bar's overall sheeting range. Allows for single handed adjustments and requires no special tools. Works with all kiteboarding control bars which feature a PU coated centre trim line.
HELIX FORCE TENSION / LINE PAYOUT SYSTEM
The Helix Force Tensioned rear lines ensure clean paying rear lines even with slack back line. This feature is crucial when rigging on the beach, allowing you to easily depower your kite before launch, even with no tension on the back lines. Helix Force Tensioning provides perfect spooling every time, regardless of line tension from the kite.
LINES LIROS DC401
This greatly innovative, engineered product only deserves to be loaded with the best quality lines on the market. Our German supplier, Liros came up with new lines called DC401. They are 1.6mm (previously 2mm) and the stiffest, most durable available with incredible non-shrinking results and a breakage of 580kg.
Pre-moulded into a U shape, making reset even easier when combined with the automatic docking and push reset feature
What's New in the V2
NEW REINFORCEMENT CENTRE PIECE BAR
Made with marine-grade stainless steel, the centre hole is highly tapered to accept the rugged 12mm PU tubing. The refined shape allows for smooth sheeting at extreme angles. All new EVA Grip
A new grip was moulded with softer grip for greater comfort especially during long sessions.
New quick release
Reliable in both slack line and full powered situations, the push away motion works in opposition to the static connection between rider and control bar, providing a smooth release in all situations. Added benefits of the Trim Loop Include:
Improved safety: the stainless steel release pin is now protected by the release cuff, guarding your hand during activation
Easy reset: push release cuff remains locked up and ready to reset after an eject making reset quite literally a "snap"
Below bar line swivel "Roto Hub" has been refined, offering a smoother re-ride action and line twist management.
The trim loop is pre moulded into a U shape, making reset even easier when combined with the automatic docking and push reset feature.
Improved donkey dick: tapered shape holds the trim loop in place in the event of slack line or extreme sheeting angles, reducing the chance of unwanted unhooking.
BLUE CHIP BAR COMES COMPLETE WITH:
22m kite lines

BWS kite new safety leash 50cm with push away release

All new donk stick

3 sets of pigtails (20cm/25cm & 35cm) to fit on any kite

Protective nylon bag