A Board for Every Day
Drifter 2.0 retains the magic ingredients we love and continues to excel in those mushy waves and smaller conditions nearly all of us ride nearly all of the time. Sure, we'd all like to kite peeling perfection in strong winds but let's be real, that doesn't happen very often. We need something that makes going upwind a breeze, a board that can handle heavy landings and loves to slide out and make sloshy conditions fun. With its flat rocker and wide nose, the Drifter 2.0 will get you in the water more and keep you there longer.
The manufacturing of the board is in Europe with Apple Tree Company, where a unique technology was developed to ensure the lightest and yet strongest board available on the market today.
The Drifter was originally designed as surf & kiteboard but with the latest innovations on both shape and construction the board has tremendous qualities for kiting, not only shape wise, but also offering you a bullet proof construction that withstands the fierce pressures during riding on the board and thus making the Drifter 2.0 more durable.
5'5* x 18,15″ x 2.15″. 23L
5'7* x 18.4" x 2.3". 26L
5'9 x 19.6″ x 2.4″. 28L
Although this board is designed for kite-only, it's a traditional surfboard shape so we recommend to ride it one size down from your regular surfboard.
5'5: Weight 60/75kg. Height 155-175cm
5'7: Weight 75/90kg. Height 170-185cm
5'9: Weight 90/+100kg. Height 180-200cm
Comes in white/clear resin only.
XPS is like EPS so it only works with epoxy resin. But it is different that it does not contain the beads that EPS has, That's whey call it closed foam, it means it's completely waterproof! So no worries when you ding the board. just keep kiting and fix it later. XPS is notoriously hard to laminate, but our fusion tech makes it possible! The core is fused with the skin, this gives an optimal bond between skin and core, virtually eliminating de-lamination.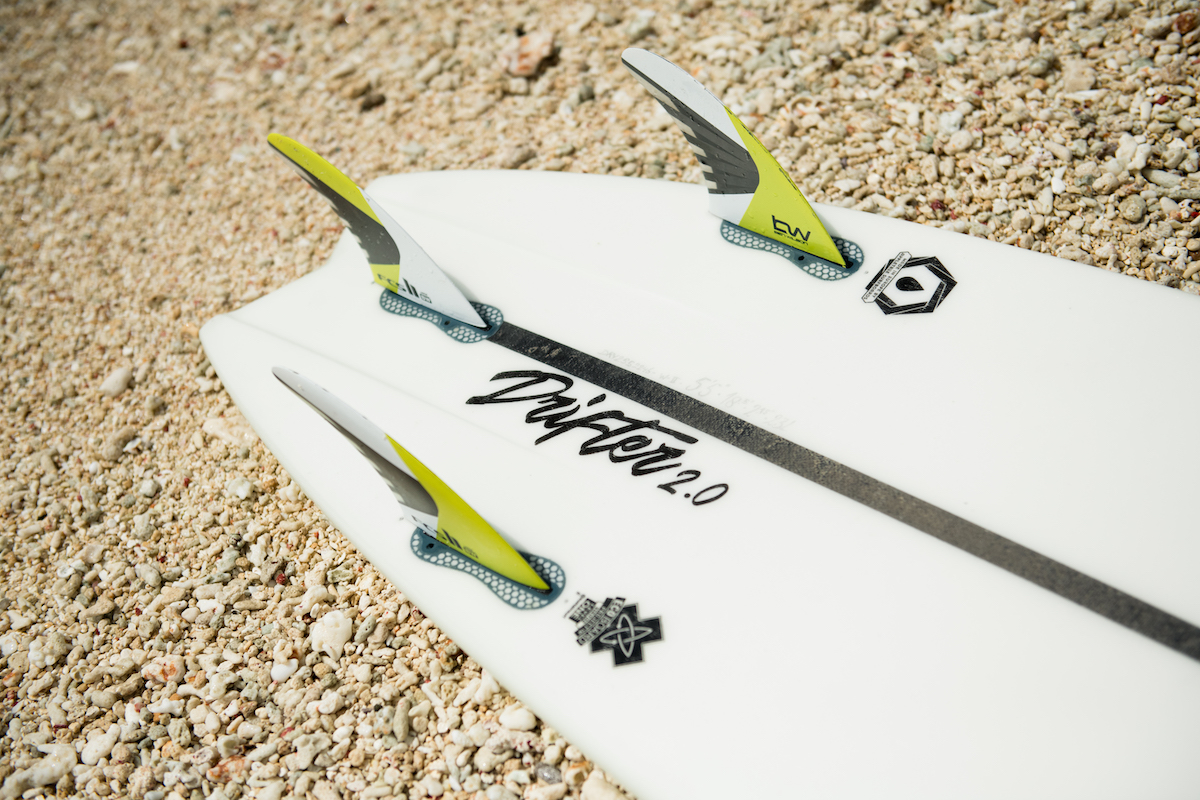 The Drifter 2.0 comes with a thruster (three fin) setup in your choice of FCSII or Futures. The Drifter 2.0 comes standard with foot strap inserts.
Strategically placed patches provide a durable platform for your feet. These patches are made from a super high strength PET honeycomb foam that is radically different from any other honeycomb on the market today. The honeycomb is set into the deck of the board, it doesn't just sit on top of the foam. The patches are sandwiched between fiberglass layers, together they form a very dent resistant layer and prevent the deck under your feet from denting marks.