Everyday hero. Latest version here now.
This board is a pure kiteboard, with a bulletproof state of the art construction and the highest performance.
You'll be truly amazed by the fun you'll have with the Stallion. A very easy, super fast and such a controlled ride. You'll be astonished by the speed you take with this board. Great turning on the wave and in the bottom is one of the many incredible features of the board. When you feel like jumping you will steal the show with the Stallion thanks to its wider nose and the handy grab rail, it's also very light built yet super strong which makes it stick better on to your feet during aerial manoeuvres.
The Stallion's performance is based on harnessing and controlling the power the water using the principals of a 3-stage rocker and concave combination known as a "Modern Planing Hull". Using channels and this modern planning hull, the Stallion will plane early, ride fast and turn tight with barely any drag. The Stallion is especially designed for kitesurfing; thin, low volume, sharp rails, light yet super strong with flex for the highest performance.
Shaped by Head BWSURF designer, Dano See, whose experience in surfing and kiting goes all the way back to windsurfing.
Aqua-dynamic Design. Ultra-tough Construction
Instead of relying purely on fins, the Stallion's precise formula of fin placement and channels makes it the best kitesurfing board on the market today. Now in its third generation, the Stallion V3's shape has not changed but we've tested and implemented some new materials to further increase its strength and durability. We are always looking for the perfect balance between strength and performance and as new materials enter the market we are first in line to try. Sometimes they work, sometimes they don't but we try them all so you don't have to.
We recommend opting for 6′′ to 8′′ shorter than your standard directional. If you're hesitating between 2 sizes, here's a thought; when your first objective with the Stallion is the freestyle strapless discipline go for the shorter one, if your first concern is performance in the waves, go for the longer one.
*Sizes 4'8 and 4'10 come without deck channels
Sizes:
4'10 x 17'25 x 1'8. 18,5L. 2,8kg
5'0 x 17'4 x 2'. 20L 2,9kg
5'2 x 17'88 x 2'. 22L 3,0kg
5'4 x 18'33 x 2'12. 24L 3,1kg
The V3 is built with our new XPS foam, which is 60% stronger in pressure than before but with same flex, offering performance and riding comfort. We call it 50K closed cell, because it can bear until 50kg per m2.
XPS is like EPS so it only works with epoxy resin. But it is different in the way it does not contain the beads that EPS has. That's why it's called closed foam, it withstands water way better then EPS. So no worries when you ding the board. Just keep kiting and fix it later. XPS is notoriously hard to laminate, but our HEX SKIN Tech makes it possible! The core is fused with the skin, this gives an optimal bond between skin and core, virtually eliminating de-lamination.
The Stallion V3 comes standard with Future Fin Quad configuration. 4 Futures Fin boxes/black . Available colours: bright yellow / red / blue.
4 Futures Finboxes/black
Optionally available FCSII
Available colours: bright yellow / red / blue as standard. Other colours custom
Optionally available with foot strap inserts.
Depending on your location, some colours may not be available as standard as with the option for choice of FCSII or Futures 5 fin setup and foot strap inserts. These options may be considered custom board orders. Contact your country distributor or BWSurf stockist for more information on what options and board configurations are made available as standard.
The Stallion V3 is built bomb proof in a triple sandwich construction with the latest 2mm Hex Skin Glass tech all over deck and strategically placed high strength XPS honeycomb foam inserts of 3mm underneath providing a durable platform for your feet, offering more riding comfort than the 5mm PET inserts of before. The XPS honeycomb is set into the deck of the board, it doesn't just sit on top of the foam. The inserts are sandwiched between a structural top and bottom BIAX fiberglass layer, with another glass fiber layer on top. Together they form a very dent resistant layer under your feet.
To counter the strength of the Hex Glass on the deck and to further control the flex of the board, we designed the U-stringer. The U-stringer of the Stallion V3 consists of an even higher density foam insert wrapped in fiberglass. This stringer acts as a spring rod and runs only in the middle of the board, leaving the tail and nose to freely flex. The u-flex stringer is covered with a thin layer of unidirectional carbon fibre, to further control flex.
The boards are glassed in clear epoxy so you can look directly inside the board, we have nothing to hide under layers of paint! The color on the boards come from tint in the resin itself, it's transparent and will never fade.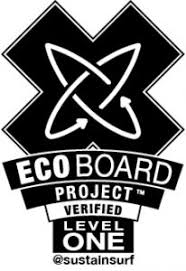 Environmentally Conscious
For our Stallion V3 we continue to use more eco friendly resins and we are stoked that these prove to be even higher performance and more durable for our Stallion then the resins we used before. We're happy to contribute to a more ecofriendly shredders world and be part of the ECOBOARDProject. You will find the official numbered Ecoboard labels on the V3.