Owner and co-founder of BWSURF, Ben Wilson has been kiting since the beginning. Ben was introduced to kiting around the new millennium while he was working on Namotu Island in Fiji. During winters he was always frustrated by trade winds, which meant afternoon surfing was rarely an option. One year some guests from Maui (Robby Naish & co.) visited and brought the latest in wind-riding technology - one of the original 2 line kites - and taught Ben the basics. After that the afternoons provided an opportunity to get out on the water where Ben practised on his surfboard, as it was all he had. It was during this time he had a light bulb moment, and realised kiting was a way to travel the world and develop a career. At the time, when kiting was only new, freestyle was the only commercial avenue so Ben followed the professional competition circuit for years before eventually returning to ride waves on his surfboard. After that, he sought to create more specific equipment with Dano See and together they formed BenWilsonSurf. I guess the rest is history…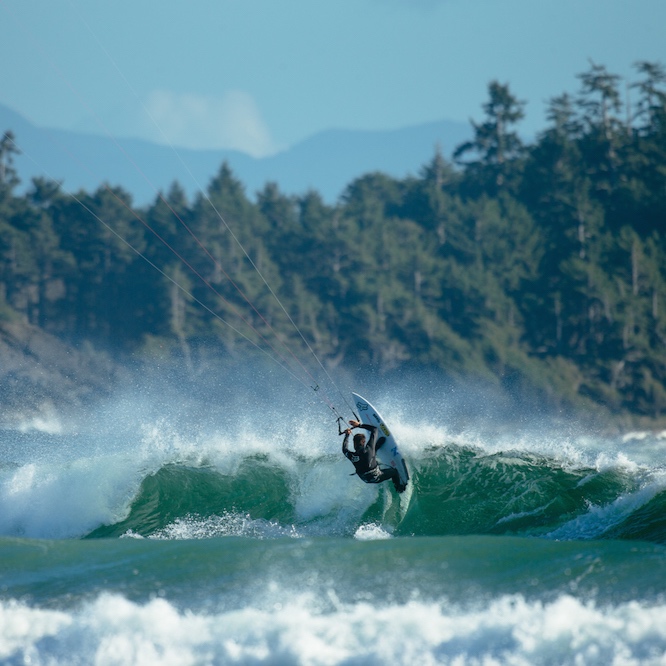 Josh has been on the surfing scene for over 20 years, although truth be told, he prefers to escape it as much as possible. His mail might be directed to Santa Cruz but his hat tends to hang in less crowded climates. Without delving into deep psychoanalysis, one might assume this is why he finds kitesurfing so appealing: the ability to surf quieter breaks, or even the busy ones when everyone else is on the beach. Whatever it is, for the last 9 years or so Josh has been packing his kites when he travels so whatever the weather, he's never disappointed.
Welsh Born Water women Kirsty Jones from the Carmarthenshire countryside was drawn to the sea as soon as she could walk. Kirsty started sailing dinghies with her Dad from the age of three then at the age of 16 she discovered windsurfing and surfing and became hooked on the energy of the wind and waves. In 2007 Kirsty pushed the limits of kitesurfing to a new level and completed a world first epic kitesurf crossing of 140 miles from the Canaries to the Western Sahara, Morocco, land to land, Solo. It took nine hour's, non -stop and she raised money and equipment for a disabled Charity in the Sahara. Kirsty also set up a small windsurfing and surfing club for the local people in this remote Saharan village, by donating equipment and teaching them to windsurf, surf and introducing them to kite flying and kitesurfing. Kirsty is a fully qualified and highly experienced, kitesurf, windsurf,surf and yoga coach and In between her commitments and adventures as a full time professional kitesurfer, Kirsty offers kite, yoga and surf workshops and retreats in her favorite locations worldwide, as well as one to one kitesurf coaching and sport specific yoga sessions and programs.
WSL competitor, Caio Ibelli has been competing in both surfing and kiting since he was just 16. "I loved surfing so much that I started kiting so I couldn't miss any waves and surf even on the windy days. I've been in love with the feeling since my first day." Caio's hometown, Sao Paulo in Brazil, is notoriously windy so being able to kite meant he was able to get on the water and train where others couldn't. Who can say whether this helped him the WSL ranks (we'd argue that it certainly helped!) but either way Caio is certainly going places. Although a busy tour schedule now means less time for kiting, Caio still manages to score a few sessions between events when he's in Hawaii, Fiji or Brazil. During the 2016 Fiji Pro where competition was halted due to wind, Ben and Caio managed to catch a few stray waves down on the sandbank.
Moroccan shredder Ali joined the team along with wife, Kirsty Jones, in 2017. Together with BWSURF Europe they host trips to Morocco and Western Sahara where they teach guests the fundamentals and finer points of wave kiting. Ali has competed in the GKA Kite Tour with solid results and with his whole career in front of him is sure to continue impressing us with his skills.
Kohl Christensen's life balances the search for the biggest waves with building and farming at home in Hawaii. "Surfing big waves keeps me grounded," Kohl says. As one of the leading players in the revival of paddle-in surfing in giant conditions, he spends much of his time tracking swells and testing new board designs. Kohl is relatively new to kitesurfing but has taken to it like a duck to water, fast becoming one of the smoothest and most natural kiters in the lineup. While big waves will always be his first calling, kitesurfing has opened up a new world of possibilities. When it's both flat and calm you might find Kohl tending his off-the-grid farm or installing solar systems around Oahu. When the waves are pumping he'll be paddling into the biggest waves he can find.
Pro surfer Ben Bourgeois learnt to surf when he was just a tiny three-year-old. Clearly a natural, he started wining surfing contests, even though he was too little to take the board into the surf and needed a caddy to help him. Ben and his family moved to Wrightsville Beach in North Carolina, which offered him the quality surf he needed to continue winning competitions into his teens and twenties. He competed on the WCT and eventually crossed paths with kiting after some lessons with friend Tony Del. Although he caught the kitesurfing bug in 2007, it wasn't until 2012 when he quit the WCT did he really score some sessions on the kite. Ben is now one of the chosen few, a free surfer who spends his time travelling the world and chasing the best waves as well as competing in surf contests whenever the "mood" hits him. Of course these days he packs a few kites in with the boards.
Retiring from the rat race at just 24, Beau Pilgrim is something of an anomaly. After working in his field of study (Nuclear Medicine) for a couple of years, Beau decided to follow his passions and turn a hobby into a career. This smooth transition from medicine to photography has meant Beau can travel, kite, surf and ski all while claiming he's 'working' – a highly crafty move and one that's paying off in spades. When Beau isn't travelling somewhere exotic or working a photographic job, you might find him home in Newcastle, teaching kitesurfing or lifeguarding on Namotu Island. No matter what Beau turns his hand to he seems to excel, no doubt due to his level of dedication and a good dose of natural talent. One to watch…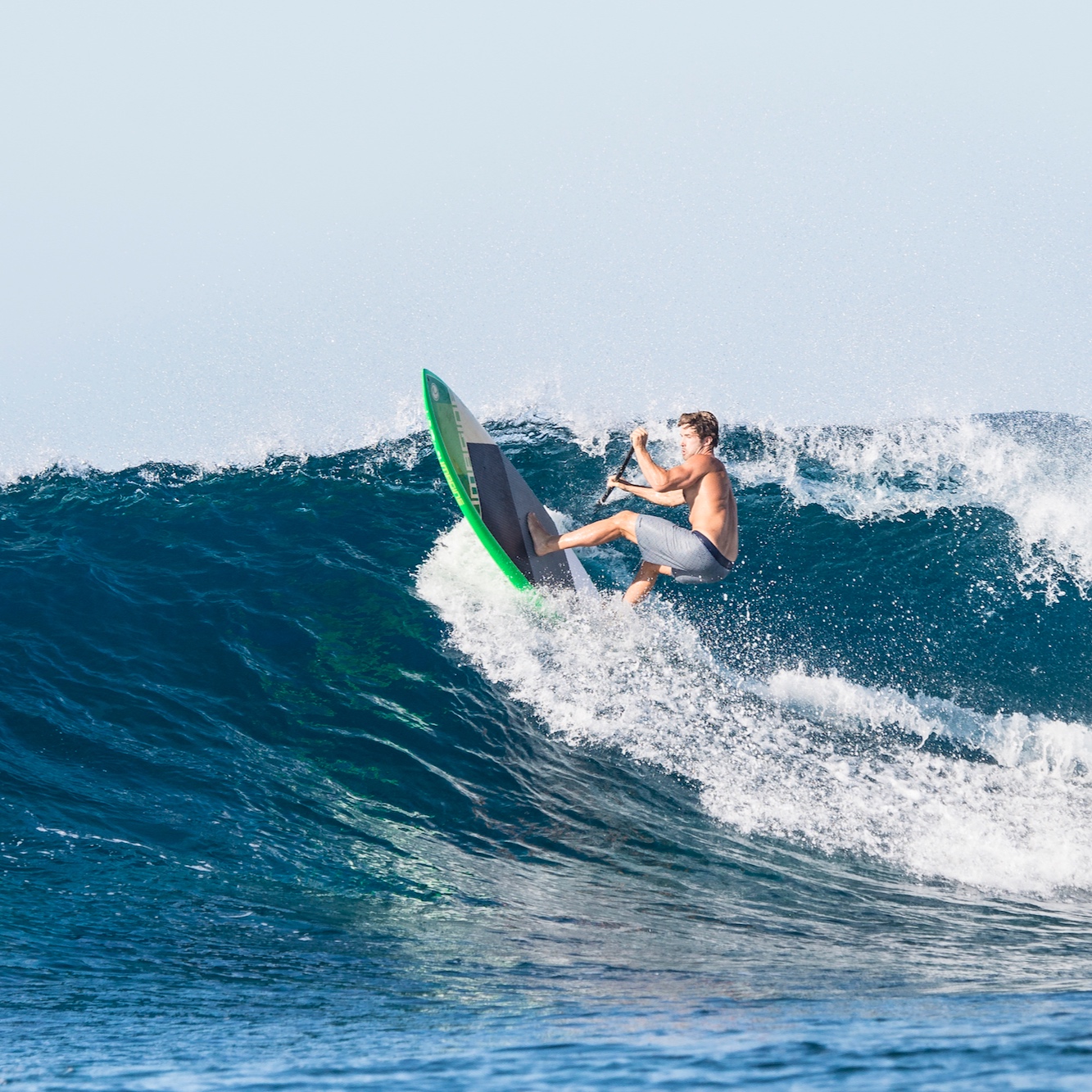 Rory Chapman hails from Newcastle, Australia and came to kiting relatively late, in his 20s. Like many of our riders, he found the sport gave him the ability to stay on the water when he'd otherwise be forced to sit on the beach, one of the few things he doesn't do well. When he's not kiting, paddleboarding (Rory places in the infamous Molokai event every year & won the Iron Mana Tahiti), sailing (sometimes in the Sydney to Hobart), snowboarding or spearing, Rory likes to check on his honeybees. Rory is also a SUP, surf and kite coach on the Ben Wilson Kite Weeks and other watersports trips.
I was born and raised in Northern California. My life revolves around the ocean and I am totally addicted to stoke. I began kiting at age eight, when my parents (both kiters) introduced me to the sport. My training grounds were Hood River in the summer and Baja during the winter. I fell in love with surfing when I was eleven, and soon after realized that I could combine my two passions. I am currently at Branson High School. I am a musician and play jazz/funk and bluegrass in two bands. When I am not studying, I keep fit by boxing, mountain biking and CrossFit. I also work to improve my surfing technique by skating when the waves are flat. I love the ocean and the spirituality of kiting and surfing. The ocean is my home and I am only a visitor on land.